Recent Events
On Thursday, August 3rd, Raise hosted its first Open House to a group of oil and gas industry professionals at its facility in SE Calgary. The demonstration of Raise's models and subsequent barbeque was appreciated by all in attendance. Due to the overwhelming demand for this event, Raise's next Open House will be held on Thursday September 7th. This event is by invitation only. If you would like to secure a spot, please contact us at This email address is being protected from spambots. You need JavaScript enabled to view it..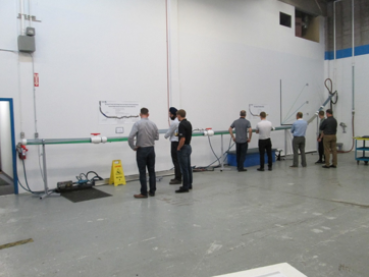 Upcoming Events
Open House - September 7, 2017
The Open Houses are by invitation only. Please contact us at This email address is being protected from spambots. You need JavaScript enabled to view it. to secure a spot, as spaces fill up quickly. Lunch will be provided.
Raise will have 3 models on display consisting of:
A table top reservoir model depicting flow in a horizontal wellbore, showing 7 segmented flow fractures with different work flows depicting how wells deplete at the heel section and how drawdown along the entire Hz section affects better ultimate recovery.
A table top model of conventional rod pump technology at various landed deviations and how Raise's High Angle Lift Solution (HALS) performs in wellbores from 45 degrees to 90 degrees.
A 40ft length x 114mm (4 1/2") horizontal wellbore model with a build section that can be placed from 90 degrees to 65 degrees deviation. This model depicts toe flow and also has an inlet at the heel section showing gas interference. The model is a good visual of how cross sectional areas of the wellbore react to gas and fluid inflow and how slugging can occur and be mitigated. The model is representative of two phase flow with a fluid rate of 160 bbls/day and 800 scf gas/bbl.